Are you an electricity distributor?
Tell us here about applications for connections to your power network which may affect our distribution network in the context of the acceptance process. You can also ask us for any technical information you need about our electricity network.


Tell us about applications to connect to your power network.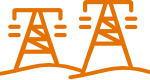 Ask for technical information about our network.