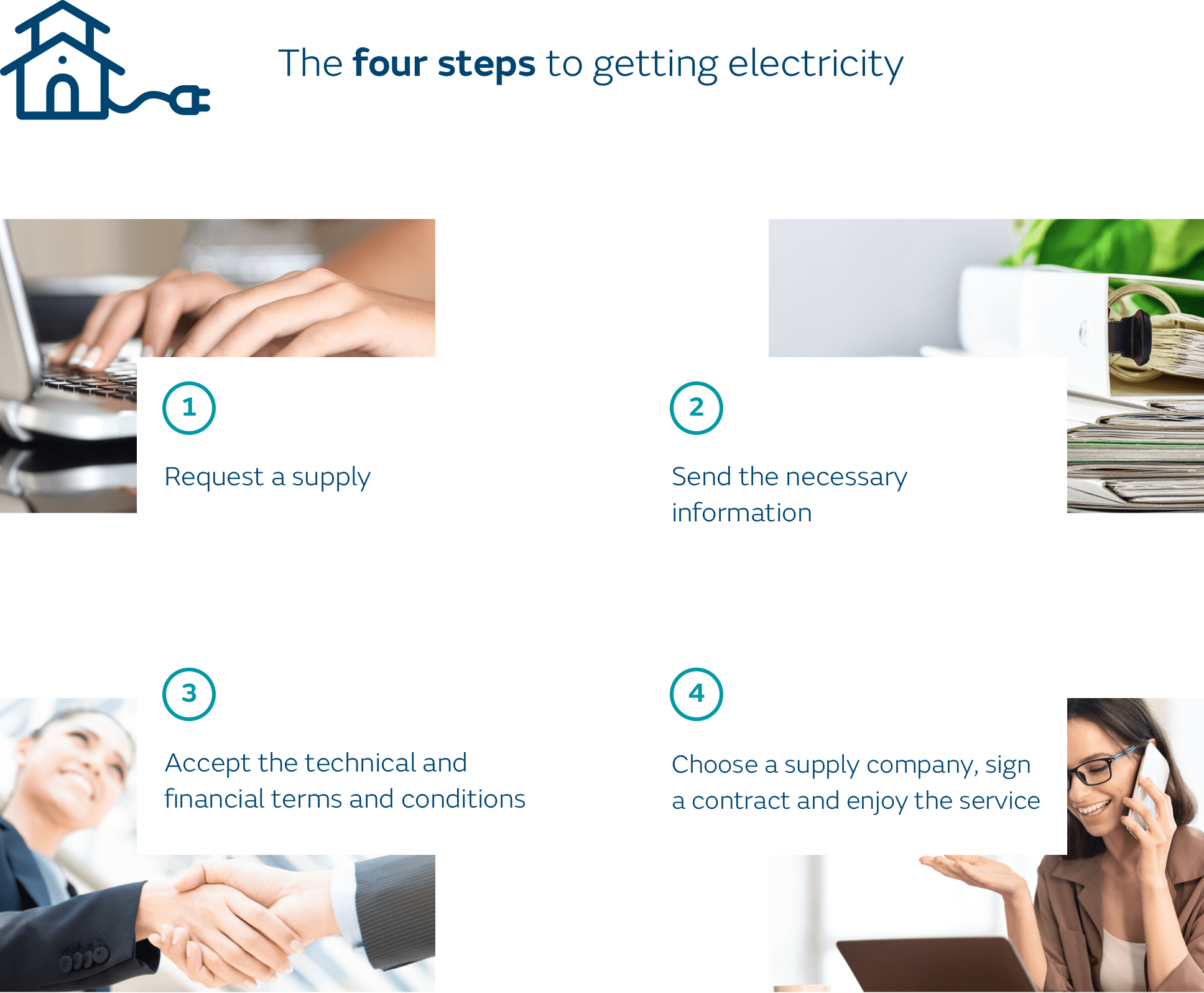 In the My supplies section of the Private Area you can request your new supply.
 What information will we ask for?
– Personal details (name, NIF, e-mail address, telephone number)
– Details of the Supply Point
Remember! The application must comply with the legal requirements for the process to be valid.

Send the necessary information
In order to assess your request, we will sometimes need additional information about the supply point. In these cases, we will tell you everything we need you to send us.
You can send us the information via the website.

Accept the technical and financial terms and conditions
Once we have assessed your request, we will send you the technical and financial terms and conditions of the works to be carried out to connect the supply, indicating the work we will need to do ourselves and the work you can pay a specialised installation company to do.
Once you accept these terms and make the payment, we will get to work.

Choose a supply company, sign a contract and enjoy the service
When we finish our work, we will let you know that your installation is ready and tell you your CUPS number (Universal Supply Point Code), which is essential for contracting an electricity supply.
Finally, choose a supply company
(you can find them on the CNMC website at www.cnmc.es), sign a contract and enjoy the electricity supply.
Below you can find a list with part of the legislation that may be applied.
Royal Decree 1955/2000, of 1 December, regulating the activities of transportation, distribution, marketing, supply and procedures for authorising electricity facilities.
Royal Decree 1110/2007, of 24 August, approving the unified Regulation on electrical system measurement points.
Royal Decree 1183/2020, of 29 December, on access and connection to electricity transmission and distribution grids.
Royal Decree 1048/2013>, of 27 December, establishing the methodology for calculating electrical energy distribution remuneration.
Royal Decree-Law 23/2020, of 23 June, approving measures regarding energy and in other areas to stimulate economic recovery.
Act 24/2013, of 26 December, on the Electricity Sector.