The maximum demanded power is calculated by adding up the powers of the devices connected simultaneously in a given period of time. This value, therefore, will depend on the type and quantity of electrical appliances you use, as well as your consumption habits and the people who live with you.

What is contracted power?
It is important to know how much power you need, based on your real consumption needs, whether you want to register a new supply or adjust the contracted power of an existing one.
The contracted power is the value that limits the number of devices that can be connected simultaneously to the electrical network of a home, premises or business without triggering the Power Control Switch (PCS).
How can I find out my maximum power?
Register in our private area and you will be able to see the recorded values of your maximum demanded power in relation to your contracted power every month.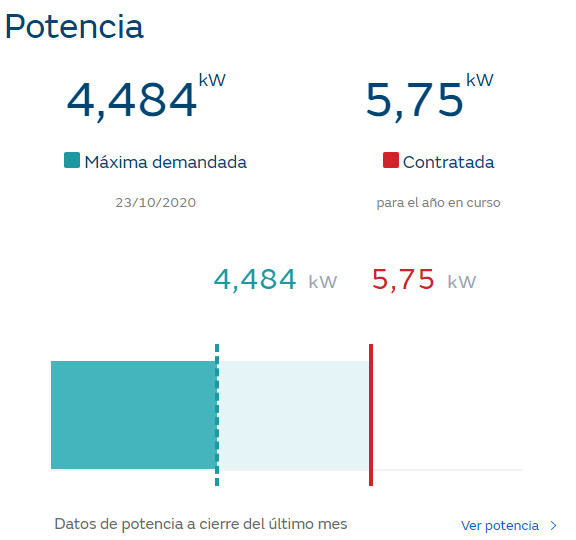 How can I change my contracted power?
To increase or decrease your contracted power, visit our private area. You will be able to enter the power you want and we will inform you of the maximum authorized power in your Electrical Installation Certificate (CIE), in case you exceed it and have the need to request a new one from your authorized installer..
In case you want to increase the power, we will also check that your Extension Rights are up to date and, if not, you can request their renewal with a single click.
Finally, to request the change of power, you will have to contact your marketer.
Please note that you will be asked for the following information:
details of the contract holder

the CUPS (Universal Supply Point Code)

the current power of your supply point

the new power you want to contract
Reasons to modify my power
If your Power Control Switch (PCS) trips often when you connect several devices simultaneously, you may need to increase your contracted power.
In addition, by improving the energy efficiency of your home or business and optimising your consumption habits, you will be able to adjust your contracted power.