First of all, it's important that you know about the various types of self-supply defined by Spanish Royal Decree 244/2019, of 5 April, governing the administrative, technical and economic conditions of electricity self-supply, so that you can decide which one best suits your needs.
Types of self-supply
 Self-supply WITHOUT surplus
These are self-supply installations that generate power for your own supply and do not export any surplus electricity to the distribution network. To guarantee that no exports take place, an officially approved anti-export device must be installed in these cases.
 Self-supply WITH surplus
These are self-supply installations that do export surplus power to the network. This category is further divided into two different options:
 Self-supply with surplus COVERED by the compensation system
Whenever an amount of the generated power is not consumed, it is exported to the national grid and monetary compensation is received for it. This is managed by the supply company after signing a surplus compensation contract between the producer and the associated consumer. Only those self-supply installations consisting of renewable resources with a power level lower than or equal to 100 kW can operate under this option, which receive no premiums and only have a single supply contract including, where pertinent, the ancillary power generation installation services.
Self-supply with surplus NOT COVERED by the compensation system
These export surplus power to the distribution network when contracts for a surplus compensation have not been signed, either voluntarily or because they do not meet the necessary requirements. This surplus power will be sold on the electricity market and the corresponding monetary compensation will be received in accordance with current regulations.
Regardless of the chosen type, self-supply can be categorised as either individual (when there is only one consumer associated with the power generation installation) or collective (when there are various consumers associated with the nearby power generation installations).
Conditions
In order for a consumer to be associated with a self-supply installation, whether individual or collective, one of the following conditions must be met:
 Be directly connected to the power generation installation.
 Be connected to the power generation installation by means of an internal network (e.g. a homeowners' association network).
 Be located on a plot that shares the first 14 digits of the cadastral reference of the plot on which the power generation installation is located.
 Be connected to a distribution network connected to the same transformer station as the power generation installation.
 Be located less than 500 metres away (counted as a right-angle at ground level) from the power generation installation and be connected at low voltage for both generation and supply.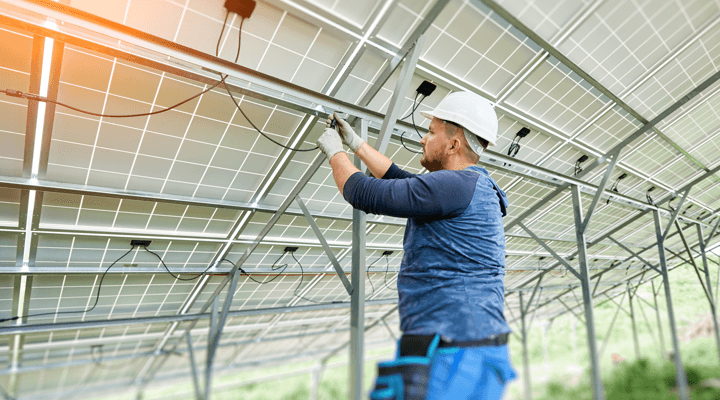 How can we help you at UFD?
When you decide to install any type of self-supply system, you will need to complete certain administrative paperwork and obtain certain permits. Information on this can be found in the guide published by the Spanish Energy Diversification and Saving Institute (Spanish acronym: IDAE).
As a distribution company, UFD can tell you about the steps to follow that will allow you to install your self-supply system. There are two steps: connection and the contract.
If your installation is self-supply without surplus (regardless of its power) or is self-supply with surplus and a power less than 15 kW located on urban land, you do not need to complete the access and connection process. In either case, you need to bear in mind that the installation must comply with current legislation, the regulations (low voltage regulations, high voltage regulations, etc.) and the current technical documentation.
 If your installation is self-supply with surplus but does not meet the two requirements explained in the previous paragraph, you will need to complete the connection and access process. To do so, you simply need to make a request by visiting our website.
Bear in mind that, in order to request access to the distribution network, you need to have an economic guarantee or bank guarantee equal to €40/kW installed if the installation has a power in excess of 10 kW.
In order to commission your self-supply installation, whichever type you choose, you will need to sign or amend your access contract with UFD or the distribution company assigned to the area where the installation is located. This process can be undertaken via the supply company with which you have contracted your supply.
Furthermore, bear in mind that if your power generation installation has more than 100 kW of power or is not connected via an internal network, you may also need to sign a power supply contract for ancillary services.
In any event, UFD can advise you on the entire process so you need not worry about anything. When we receive your request, we will examine it to assess all the needs and requirements for commissioning your self-supply installation under the best conditions.
Because, at UFD, we want to help you with your self-supply.